Previously sellers were restrained by a lengthy process of getting their products sold via a traditional retailer process where first they would sell to wholesalers then distributors, then retailers and after all this, the product would reach the final consumer. Sellers never got a chance to build one-to-one relationships with their buyers or gain their trust.
With the advent of digitalization, a more consumer-centric model has gained momentum in commercial business. Direct to customer or D2C model is making it possible for brands to sell their products directly to their buyers.
The Internet has enabled a lot of features for sellers which previously were far-fetched imaginations. The D2C model eliminates the middlemen and producers are able to sell online.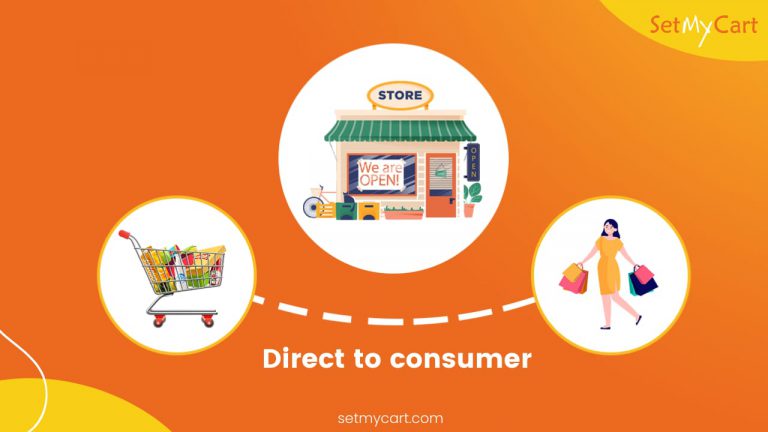 Today, global e-commerce sales are standing at around a whopping 4 trillion dollars.
And ecommerce market is estimated to grow by 200B by 2027.
A report in 2020 by Festive Shopping Index by Retailers Association of India (RAI) reported that as many as around 75% of consumers preferred shopping online.
The demand for online shopping is in full zeal and isn't expected to plummet anytime soon. Along with convenience and a wide array of options, customers are more inclined to look for a product online before they step outside to purchase physically.
More opportunities bring more competition. With multiple online stores opening up and ever-rising competition, it becomes pertinent to hit the right note to increase sales in this stiff eCommerce market. Marketing becomes an indispensable aspect of strategizing to attract more customers. A huge benefit of the D2C model is that manufacturers get full control over positioning the product in the market, marketing it, and creating a favorable customer service experience. D2C model has paved the way for a robust manufacturer-consumer relationship. Manufacturers are now able to create an omnichannel experience for the final users of their products.
SetMyCart has compiled and curated ten marketing strategies for novice online users who are dabbling with online selling to amplify their reach and step up their eCommerce game.
1.Promote and reiterate your brand motive.
This entails establishing the purpose of your brand and marketing the same. In this fierce competition, your brand must focus on what it stands for and how it stands out from other brands. This includes highlighting a distinctive feature of the brand and adhering to the same. Your brand should revolve around value it brings to your customers' lives.
For example, a brand selling apparel might reiterate its purpose of promoting sustainability through its sustainable fashion garments, or a cosmetics brand emphasizes vegan-friendly or cruelty-free ingredients.
2.Penetration pricing
You can achieve this by selecting any seemingly expensive product in the market and selling it at lower prices. This is the best way to get started initially as people would be drawn to that product and gradually you can start selling them your other products.
This would be another highlight of your brand helping it differentiate from competitors.
The prime example of penetration pricing is the American OTT platform Netflix. People often complain about Netflix prices going up after their one month of free trial but nevertheless, they continue using its services even at higher subscriptions due to its good content.
3.Optimizing your social media
Gone are the days when sole reliance on the market presence was necessary to get noticed. The soaring social media consumption of users can be tapped to strategically market your product. Have a business account on Instagram, LinkedIn, Facebook and post regularly. The quality of content also plays a vital role in attracting potential customers, a neglectful or lousy social media presence might do the opposite.
For inspiration, take a look at Instagram accounts of Amul India, Zomato India, Mamaearth, etc
Posting consistently with a uniform theme plays a great role in creating a brand image.
4.Give solution to consumer pain points
Pain points are certain problems faced by prospective or current customers. It is another opportunity for a brand to position itself differently from its competitors. By providing solutions to common problems faced by customers in their day-to-day lives, a brand can get the attention of its potential customers.
For example, the main pain point of customers can be delayed company response, substandard quality of goods, complicated buying or registering process.
Your brand can provide solutions to these problems which a person faces and gain the trust of consumers.
6.Simplify things for your customers
A lot of time people are dissuaded due to the long and cumbersome process of registering and accessing their online account. Many times a website asks for too much information which the customer might be reluctant or hesitant to provide. Some sites provide discounts but the process to employ it is simply too convoluted for a person.
Have a simple and crisp signing up process to keep the interest of the customer intact. Provide a copy-to-clipboard option on coupons so that the customers are not toing and froing between sites and end up losing interest.
7.Have lucrative CTA
Your Call to action or CTA can carry different offers or bonuses. It is a smart way to loop in a customer and sell them your product. You can have CTAs on your social media bio, website, or paid advertisements. They can be in the form of downloadable useful PDFs, sign-up discounts, free delivery, or free trial for a limited period.
For example, if you're selling online courses, your CTA can be- sign up today and get 30% off on your first purchase.
8.Harness the power of email marketing
Email marketing is probably the most underrated tool for generating leads. Once you have roped in a prospective customer to sign up, you need to turn that lead into sales. Here comes the role of email marketing. Sending out regular emails about your new products, discounts, and new service is essential to keep your customers engaged without looking spammy.
8.Keeping existing customers engaged
Sending a newsletter to subscribed customers regularly is an engaging means to keep your audience updated so that they don't forget your brand or lose interest.
Engagement via social media polls is also a nice way to know about your audience. For example, if you are a chocolate brand, you can post a poll between two flavors. Having regular giveaways and contests is another widely used method of gaining popularity and getting audience interaction.
9.Provide a good customer experience
Having effective customer care services or a grievance redressal system is important to build seller and customer relations and gain loyalty. Not replying to emails and not picking up calls would leave the customer dissatisfied and they will never avail your services in the future. Therefore, it is essential to have a coherent system in place.
10.Create scarcity
The demand and supply in microeconomics state that the lesser the supply, the more the demand. This phenomenon rose into prominence during the pandemic when people started hoarding all necessary items from toilet paper to contained food. The brands have been reaping profit by intentionally creating scarcity or an impression of scarcity.
When people believe that a particular product may not be available to them in the future, they will not risk the opportunity and make purchases then and there. When there is a surplus, people tend to wait for clearance sales to buy when the prices are less.
Using this strategy in the right way is the key. If you phrase the scarcity in terms of higher demand, the audience would be more receptive.
For example, the demand for a certain perfume is so much that it is out of stock would be more convincing and persuasive than only a few units of that perfume were ever available.
Make use of online space and maximize your digital channels to expedite sales.
If you are starting your online selling journey but don't know where to begin, book your free demo with SetMyCart. SetMyCart offers an omnichannel for online sellers to set up multiple stores online along with an efficient mechanism to track them.